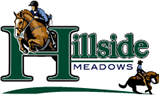 Hillside Meadows Equestrian Center is a family friendly, 39-stall premier horseback riding and training facility located on 70 acres of beautiful land in Grafton, Massachusetts. We feature hunter jumper, western, ranch, boarding, lessons, horsemanship programs, training, and more. Our MA licensed instructors are available for training, lessons, show coaching, and more!
Hillside was established in 2003 as a cooperative boarding facility. HMEC has evolved into a multi discipline full service Equestrian center offering lessons and training for all levels of horsemanship. This 70 acre facility has been built and expanded with state of the art structures and equipment. The proprietor, Ron Ernenwien, lives on the property and oversees the direction and management of the facility. We currently boast a full fleet of school horses and 39 stalls. There are four separate barns on the property, a private barn, a school barn, and two state of the art facilities. The two boarding barns both have indoor and outdoor arenas, viewing areas, and beautiful large stalls.
Hillside began to grow into a multifaceted facility in more recent years. We proudly offer a wide range of disciplines, horses and trainers to serve almost anyone's riding goals. We not only travel to many shows throughout the year, but also host many shows and clinics ourselves. There is always something going on at Hillside.
Copyright 2017. Hillside Meadows Equestrian Center. All rights reserved.
Site designed by Jordan Harris of JHDesign